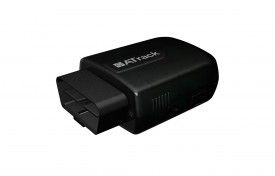 Visit the manufacturer website
AX9 is an optional 2G/3G GPS tracking unit with OBD-II Interface and plug-n-play installation. Featuring OBD / CAN Bus J1939 data acquisition, Bluetooth connectivity, driving behavior event management, and user-defined reports, AX9 is an ideal solution for Usage Based Insurance, Car Rental, Fleet Management of both Passenger Vehicles and Heavy-Duty Trucks, and Teenage Driver Tracking.
Features:
Flexible wireless network options.
Small and easy plug-and-play installation.
Ultra low current consumption in deep sleep mode.
Data communication by SMS/TCP/UDP.
High GPS sensitivity.
Built-in 3-axis G-sensor.
FOTA firmware upgrade using FTP.
Configurable Real Time Tracking & Logging.
32 user defined geofences.
Build-in buzzer for configurable event.
*Roaming preference settings.
Harsh driving behavior events.
Configurable power management.
OBDII data collection.
FMS / J1939 data collection.
Fuel economy calculation.
User defined OBDII event transmission.
OBDII Diagnostic trouble code reporting.
Intelligent event control engine.
Buffered event message of 150,000 positions.
*AX9(CV) and AX9(CS) are not supporting roaming preference feature.
This information only is for informational purposes only, Plaspy does not have relationship with the device's manufacturer, for more information check the
manufacturer's website
or user manual.
Set Up AX9
To set RzMh2B you need to configure as follows. With the following script
Set ACC event
Fn6ApyAa8rH
wlAoVd3yRLaEaQp9slRQlqnmHelW
LHzxw319lFL3H1hSp6VH7YrJKjKD
mMXr12wUFqgvg
Set time interval to 60 seconds
GRudUvX78RTlBp1y2X
Set to binary mode
jFBiaqQABtRaAMUHl
Set the GPRS server
ToTcswU5eK3EeuZdzbL0M6QaKY5y8EEDhEuHFbsrFyLvGSNMyQf7nIqz0BQn8GqSkUBDAnIoB
To check device status
HoVXpEz71
Trackers