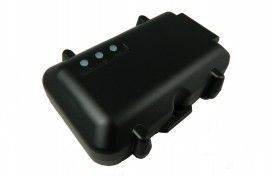 Visit the manufacturer website
AL7 is an economical fleet tracking unit realizing real-time track and trace with easy installation. Featuring IP66 waterproof casing, internal antenna, I/O connectivity, driving behavior event management, and user-defined reports, AL7 is an ideal solution for Motorcycle Tracking, Fleet Management, Car Rental, and Small & Medium-Sized Enterprises.
Features:
Wide operating voltage range from 6V to 30V.
Flexible wireless network options.
3-wire easy installation.
Ultra low current consumption in deep sleep mode.
Data communication by SMS/TCP/UDP.
High GPS sensitivity.
Built-in G-sensor for motion detection.
FOTA firmware upgrade using FTP.
Configurable Real Time Tracking & Logging.
32 user defined geofences.
*Roaming preference settings.
Harsh driving behavior events.
Configurable power management.
Over speeding detection.
IP 66 waterproof casing.
Intelligent event control engine.
Buffered event message of 18,000 positions(equals to 140-day logging data with interval of 1minute).
*AL7(CV) and AL7(CS) are not supporting roaming preference feature.
This information only is for informational purposes only, Plaspy does not have relationship with the device's manufacturer, for more information check the
manufacturer's website
or user manual.
Set Up AL7
To set S0u29k you need to configure as follows. With the following script
Set ACC event
xfr7K3ngCmY
ocehoqcjK8kzGqYpbjUgYvRdlsJ9
nLoYSUzm6DEqHoJc1z5vpA7h21SK
wtPgb5QkXPTv4
Set time interval to 60 seconds
VBBbpnBSTpDuSh9xuh
Set to binary mode
6QBkGPXJjnEb5Oy2e
Set the GPRS server
CVQ5eQPDHruDtFMkqMpB7UeWXbP6BdsDYM76OMa6j8Py0K2VfmgDGnb2AioH8RIHVpqmQjADX
To check device status
1pDJMrJz2
Trackers