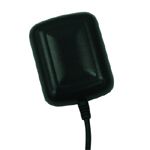 Visit the manufacturer website
A-511S
GPS Receiver,Wired GPS Receiver

The A-511S High Performance High Sensitivity GPS Smart Receiver is a total solution GPS receiver, designed based on SiRF architecture. This complete enabled GPS smart receiver provides high position, velocity and time accuracy performances as well as high sensitivity and tracking capabilities. The A-511S High Performance High Sensitivity GPS Smart Receiver is ideal for many applications such as car navigation, mapping, surveying, security and so on.
FEATURES:
1. Built-in SiRFIII chipset.
2. 20 channels 'All-In-View' tracking.
3. Cold/Warm/Hot start time: 42/38/1 sec. (average).
4. Superior sensitivity: -159 dBm tracking.
5. Reacquisition time: 0.1 sec.
6. Low power design (80mA, tracking).
7. Super-cohesive magnetic for installation.
8. USB/PS2/DB9 interface connection port.
9. Size: 65.0" (L) X 53.0 mm (Diameter) X 19.2 mm (H).
10. Operating temperature: -40°C to +85°C.
This information only is for informational purposes only, Plaspy does not have relationship with the device's manufacturer, for more information check the
manufacturer's website
or user manual.
Trackers
Use Plaspy with a tracker
Set the Operator APN
Check your tracker clock setup is set UTC-0 o GMT. (The most trackers come from the factory on UTC.)
For most devices you should use IMEI (International Mobile Equipment Identity) number as unique identifier. However, some devices have vendor specific unique identifier, for example TK-103 devices use 11-digit identifier.
Set Up the IP and port on your tracker: (automatic detect tracker's protocol.)

| | |
| --- | --- |
| Server | d.plaspy.com |
| IP | 54.85.159.138 |
| Port | 8888 |

Add on your Account on devices with the IMEI or unique ID.