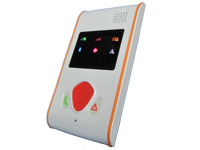 Visit the manufacturer website
DX-3 GPS Personal Tracker
For elderly, chronically ill and lone worker protection

With social problems and crime rates on the increase, and GPS getting more and more popular, people naturally make the connection between GPS trackers and protection of vulnerable people; in particular the elderly, chronically ill and lone workers. But there are so many personal GPS trackers on the market for general location pinning purposes, and different groups of people have different needs, so which one to choose? 

DX-3 is a GPS personal tracker specifically designed for the safety and security needs of the elderly, chronically ill and lone worker. Everything about it is made for helping people when they are most vulnerable, and for using GPS tracking technology on daily basis. DX-3's user-friendly interface, iconic LED indications and hearing/sight aids, provide convenient usability. By deploying DX-3 GPS personal tracker, family members and care givers of the vulnerable will have the reassurance and peace of mind they've never had before. DX-3 helps to release stress on care givers and family members. At the same time, it also allows the elderly, disabled and chronically ill to regain independence and freedom to go out sometimes. Additionally, for the elderly, a charging dock is extremely helpful. 

DX-3's waterproof rugged housing makes sending emergency alerts possible even if it falls into water. If for some tragic reasons, users are not able to press the emergency button, DX-3 has a "man-down" alert. Moreover, to save battery power and to retain privacy, as well as independence, DX-3 does not track users, unless the emergency button is pressed or lanyard is pulled off. However, if users feel vulnerable or insecure, they can press the Start Tracking button to inform the monitoring centre. Companies will be able to respond to accidents instantly, as well as deliver aid quickly. DX-3 helps to reduce corporate liability risks, and assists employers to look after their employees in a more proactive and comprehensive way. All in all, ARKNAV DX-3 provides ease of use and complete protection. It is a truly cutting edge GPS tracker. 
Benefits
    • Distinguishing rubber emergency button, Start Tracking button, Talk Button
    • Man-down alert
    • Lanyard loop for activating emergency alert
    • User-friendly iconic LED indication
    • Vibration/audio as hearing/sight aid
    • 2-way voice communication
    • Waterproof
    • Easy to use charging dock

Applications
    • Elderly tracking
    • Lone worker safety
    • Patrol guard protection
    • Vulnerable person/s tracking.
FEATURES:
1. Supports Contact ID (CID) protocol.
2. Distinguishing rubber panic button, track button, talk button.
3. Man down alert.
4. Lanyard loop for activating panic alert.
5. User friendly iconic LED indication.
6. Vibration/audio as hearing/sight aid.
7. Hands-free speaker & microphone.
8. Protection against dust and water splash.
9. Stackable charging pods.
10. Standby time up to 72+ hours.
This information only is for informational purposes only, Plaspy does not have relationship with the device's manufacturer, for more information check the
manufacturer's website
or user manual.
Trackers
Use Plaspy with a tracker
Set the Operator APN
Check your tracker clock setup is set UTC-0 o GMT. (The most trackers come from the factory on UTC.)
For most devices you should use IMEI (International Mobile Equipment Identity) number as unique identifier. However, some devices have vendor specific unique identifier, for example TK-103 devices use 11-digit identifier.
Set Up the IP and port on your tracker: (automatic detect tracker's protocol.)

| | |
| --- | --- |
| Server | d.plaspy.com |
| IP | 54.85.159.138 |
| Port | 8888 |

Add on your Account on devices with the IMEI or unique ID.