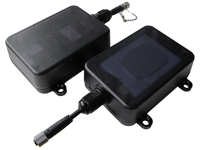 Visit the manufacturer website
AT-04 Compact GPS Tracker
For children, valuable assets, and high value deliveries

With GPS technology becoming ever more widely adopted, people are starting to consider GPS trackers as an essential tool for everyday security and tracking needs. As well as increasing the visibility of all kinds of assets, GPS trackers protect valuable goods in transit and allow real-time tracking of each shipment. 

AT-04 is small in size, which makes it easy to be hidden in all kinds of spaces. Easy to use, its single button design prevents errors during operation; a feature that makes it more suitable and secure for asset tracking applications than other small trackers on the market. 

Indoors, there are no, or very light GPS signals available. AT-04 is built with the latest GPS and GSM technologies, which provide AGPS and cell location features to help to cover low or no GPS reception areas. AT-04's exceptional AGPS and cell location functions allow users to receive location data and strong GPS signal reception under the most challenging circumstances. Its simplicity of design reduces false alarms and malfunctions. Although it only has a 1000 mAh battery, its superb power management, and configurable operating profiles make it possible to keep pinning locations once every hour for up to 14 days. 

With AT-04, end users will have 100% visibility of their valuables at all times, which is essential in asset management and security. 

Applications:
• High value package delivery
• Asset tracking
• Child protection
• Cash delivery
• Asset management
• Asset security
• Covert tracking
FEATURES:
1. Ultra-small, easy to hide.
2. One button, easy to use.
3. Superb power management.
4. Activated by timer and movement.
5. Pin-point accurate cell locations.
6. AGPS.
7. Request current location simply by making a phone call.
8. SMS Google map hyperlinks to cell phones.
9. Tracking once an hour under timer activation mode, with operating time of up to 15 days.
This information only is for informational purposes only, Plaspy does not have relationship with the device's manufacturer, for more information check the
manufacturer's website
or user manual.
Trackers
Use Plaspy with a tracker
Set the Operator APN
Check your tracker clock setup is set UTC-0 o GMT. (The most trackers come from the factory on UTC.)
For most devices you should use IMEI (International Mobile Equipment Identity) number as unique identifier. However, some devices have vendor specific unique identifier, for example TK-103 devices use 11-digit identifier.
Set Up the IP and port on your tracker: (automatic detect tracker's protocol.)

| | |
| --- | --- |
| Server | d.plaspy.com |
| IP | 54.85.159.138 |
| Port | 8888 |

Add on your Account on devices with the IMEI or unique ID.