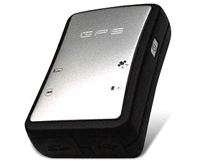 Visit the manufacturer website
K-18U
GPS Data Logger

K-18U is a GPS data logger that provides accurate GPS satellite tracking and data logging onto a micro SD card. K-18U GPS Data Logger is used for recording journeys, and tracking assets. K-18U GPS Data Logger records the time, date and GPS locations every second. Its stored data includes complete GPS NMEA sentences, which gives users the freedom to analyze or utilize the data any way they want. 

Cost Effective Travel Recorder
ARKNAV K-18U GPS Data Logger standard product package includes free testing software--K-18S Tracking Log Management Software. K-18U GPS Data Logger and K-18S together are a cost-effective tracking solution that can be used for monitoring employees and company assets and fleets.
FEATURES:
1. No installation of deriver or software.
2. Compatible with most micro SD cards.
3. Unlimited storing data capacity.
4. Saves GPS NMEA sentences (GPRMC and GPGGA).
5. Saves files in chronological order automatically.
6. Connects to a computer as a removable flash drive.
7. Configurable motion sensitivity and data logging time interval.
8. Optional data checksum.
This information only is for informational purposes only, Plaspy does not have relationship with the device's manufacturer, for more information check the
manufacturer's website
or user manual.
Trackers
Use Plaspy with a tracker
Set the Operator APN
Check your tracker clock setup is set UTC-0 o GMT. (The most trackers come from the factory on UTC.)
For most devices you should use IMEI (International Mobile Equipment Identity) number as unique identifier. However, some devices have vendor specific unique identifier, for example TK-103 devices use 11-digit identifier.
Set Up the IP and port on your tracker: (automatic detect tracker's protocol.)

| | |
| --- | --- |
| Server | d.plaspy.com |
| IP | 54.85.159.138 |
| Port | 8888 |

Add on your Account on devices with the IMEI or unique ID.