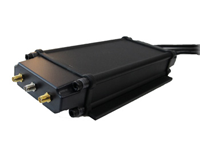 Visit the manufacturer website
IR-7 Satellite GSM GPS Hybrid Tracker

ARKNAV's IR-7 Satellite GSM Hybrid GPS Tracker is a reliable real time tracking solution for the harshest environments in the most remote of locations. IR-7 Satellite GSM Hybrid GPS Tracker is suitable to apply to marine, desert, and mountain where can't receive GSM signal well. 

IR-7 Satellite GSM Hybrid GPS Tracker's built-in Iridium satellite module provides true global coverage with 66 low orbiting satellites and its wireless communication network provides a robust suite of data services virtually anywhere on earth. Due to Iridium's low orbiting satellites, it consumes less power compared to GSM transmission in roaming areas. The simplex data network allows IR-7 Satellite GSM Hybrid GPS Tracker to successfully monitor assets across continents into urban regions and remote areas and IR-7 smart tracking system can switch between GSM and satellite networks depending on the signal to continuously output real time data.
FEATURES:
1. Integrates both GSM/GPRS and satellite networks for hybrid GPS tracking solution.
2. Global satellite communication service allows data to be receive/send anywhere, anytime.
3. 4 Inputs / 4 Outputs for extensive connection to sensors.
4. Enhanced power range from 9 ~ 48V with enhanced power input protection with ISO7637.
5. Rugged design with IP-67 waterproof standard.
6. Not dependent on cellular infrastructure.
7. Shorten data latency time.
8. Time/distance/angle triggered (configurable).
9. Main power lost detection or input power below or above set value detection.
10. Automatic save and resend messages up to 1000 locations.
11. Battery back-up in case of main battery is cut-off.
12. Up to 5 roaming partners can be configured.
13. FOTA (Firmware Over the Air).
14. COTA (Configuration Over the Air).
15. Send and receive data using SMS / GPRS / Satellite.
This information only is for informational purposes only, Plaspy does not have relationship with the device's manufacturer, for more information check the
manufacturer's website
or user manual.
Trackers
Use Plaspy with a tracker
Set the Operator APN
Check your tracker clock setup is set UTC-0 o GMT. (The most trackers come from the factory on UTC.)
For most devices you should use IMEI (International Mobile Equipment Identity) number as unique identifier. However, some devices have vendor specific unique identifier, for example TK-103 devices use 11-digit identifier.
Set Up the IP and port on your tracker: (automatic detect tracker's protocol.)

| | |
| --- | --- |
| Server | d.plaspy.com |
| IP | 54.85.159.138 |
| Port | 8888 |

Add on your Account on devices with the IMEI or unique ID.