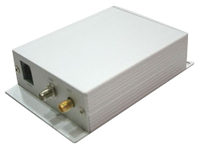 Visit the manufacturer website
R-9PRO Real Time Vehicle GPS Tracker
ARKNAV's R-9PRO Vehicle GPS Tracker and GPS car locator are designed for vehicle security and fleet management. Its rugged metal casing and wide range temperature operation are designed to withstand severe environments. R-9PRO Vehicle GPS Tracker is equipped with 13 configurable I/O cables, which allow fleet administrators to monitor not only the whereabouts but also the status of the vehicles with R-9PRO GPS tracker. 
Apart from the standard accessories, ARKNAV also designed many optional accessories for R-9PRO Vehicle GPS Tracker, such as temperature sensors, and hands-free speakers & microphone. Please go to the accessories page to find out more. R-9PRO Vehicle GPS Tracker has waterproof version -- R-9W V2 Vehicle GPS Tracker.
FEATURES:
1. Latest SiRFstarIII GPS modul.
2. Programming/updating over air.
3. Sleep mode for GPRS cost/power saving.
4. Wide range power supply (6-37 Volt).
5. Alarm inputs.
6. Immobilizer.
7. Panic input/automatic emergency dial-out.
8. Speeding report.
9. Analog input for temperature/fuel/air pressure monitoring.
10. Driver ID checking.
11. Hands-free voice communication.
12. Back-up battery (4-8 hrs).
13. Door release output.
14. Bluetooth for GPS data output (navigation).
This information only is for informational purposes only, Plaspy does not have relationship with the device's manufacturer, for more information check the
manufacturer's website
or user manual.
Trackers
Use Plaspy with a tracker
Set the Operator APN
Check your tracker clock setup is set UTC-0 o GMT. (The most trackers come from the factory on UTC.)
For most devices you should use IMEI (International Mobile Equipment Identity) number as unique identifier. However, some devices have vendor specific unique identifier, for example TK-103 devices use 11-digit identifier.
Set Up the IP and port on your tracker: (automatic detect tracker's protocol.)

| | |
| --- | --- |
| Server | d.plaspy.com |
| IP | 54.85.159.138 |
| Port | 8888 |

Add on your Account on devices with the IMEI or unique ID.