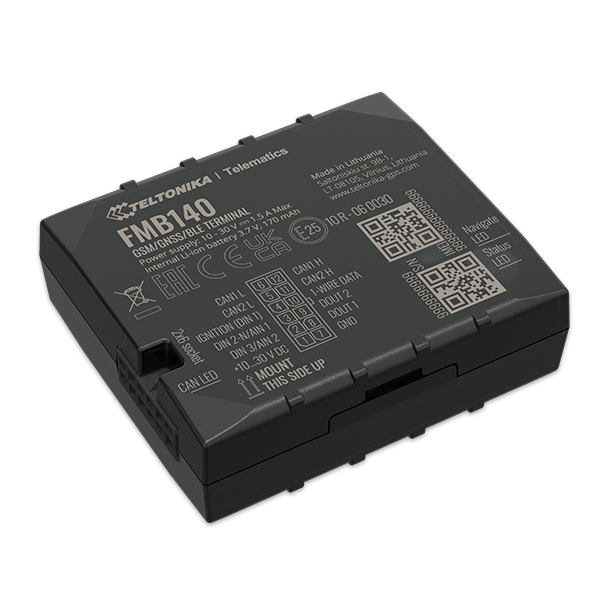 Visit the manufacturer website
FMB140 is an ADVANCED GSM/GNSS/Bluetooth tracker with integrated CAN data processor. It is compact 2 in 1 solution: GPS tracker and CAN adapter inside! Device allows to read CAN data from a wide range of various vehicles, including light & electric vehicles, trucks, buses and special machinery. Depending on exact software version FMB140 can be used in advanced applications as heavy logistics, delivery services, utility transport. Two options available to fulfill any business demands:
LV-CAN200

option –

default

software version with LV-CAN200 parameters, including fuel level, consumption, odometer, CAN speed, pedal position, Supported vehicle types: light vehicles, trucks, buses.
ALL-CAN300

option* –

advanced

software version allows to read more parameters than default version. Available

additional parameters

include AdBlue level, engine lifetime, airbag. Supported vehicle types: light vehicles, trucks, buses + electric vehicles, agriculture, construction, forest, utility & special machineries.
FMB140 supports Bluetooth 4.0 LE protocol, which lets you connect various external devices and Bluetooth low energy sensors. New device is a major improvement for telematics with easier installation and flexibility to choose proper set of features without a change of hardware.
FEATURES
CAN Data
Fuel Level (Dashboard), Total fuel consumption, Vehicle speed (wheel), Vehicle driven distance, Engine speed (RPM), Accelerator pedal position
Sensors
Accelerometer
Scenarios
Green Driving, Over Speeding detection, Jamming detection, GNSS Fuel Counter, DOUT Control Via Call, Excessive Idling detection, Immobilizer, iButton Read Notification, Unplug detection, Towing detection, Crash detection, Auto Geofence, Manual Geofence, Trip
Sleep modes
GPS Sleep, Online Deep Sleep, Deep Sleep, Ultra Deep Sleep
Configuration and firmware update
FOTA Web, FOTA, Teltonika Configurator (USB, Bluetooth), FMBT mobile application (Configuration)
SMS
Configuration, Events, DOUT control, Debug
GPRS commands
Configuration, DOUT control, Debug
Time Synchronization
GNSS, NITZ, NTP
Ignition detection
Digital Input 1, Accelerometer, External Power Voltage, Engine RPM
This information only is for informational purposes only, Plaspy does not have relationship with the device's manufacturer, for more information check the
manufacturer's website
or user manual.
Trackers
Use Plaspy with a tracker
Set the Operator APN
Check your tracker clock setup is set UTC-0 o GMT. (The most trackers come from the factory on UTC.)
For most devices you should use IMEI (International Mobile Equipment Identity) number as unique identifier. However, some devices have vendor specific unique identifier, for example TK-103 devices use 11-digit identifier.
Set Up the IP and port on your tracker: (automatic detect tracker's protocol.)

| | |
| --- | --- |
| Server | d.plaspy.com |
| IP | 54.85.159.138 |
| Port | 8888 |

Add on your Account on devices with the IMEI or unique ID.