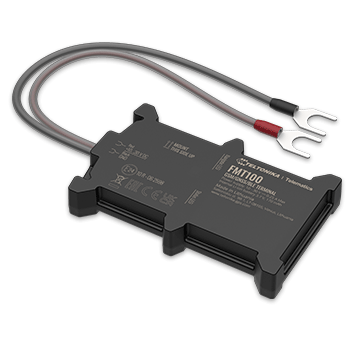 Visit the manufacturer website
Teltonika FMT100 small, smart and waterproof GNSS SPECIAL tracker with Bluetooth connectivity and internal backup battery. Biggest in its class internal High Gain GNSS antenna allows mounting directly on car battery under the hood. FMT100 is equipped with special clamp connector for fast power cable connection to the car battery. Solid waterproof case and built-in accelerometer sensor with extremely accurate crash trace functionality makes this device perfectly suitable for insurance market solutions.
FEATURES
Sensors
Accelerometer
Scenarios
Green Driving, Over Speeding detection, Jamming detection, GNSS Fuel Counter, Excessive Idling detection, Unplug detection, Towing detection, Crash detection, Auto Geofence, Manual Geofence, Trip
Sleep modes
GPS Sleep, Online Deep Sleep, Deep Sleep, Ultra Deep Sleep
Configuration and firmware update
FOTA Web, FOTA, Teltonika Configurator (USB, Bluetooth), FMBT mobile application (Configuration)
SMS
Configuration, Events, Debug
GPRS commands
Configuration, Debug
Time Synchronization
GPS, NITZ, NTP
Fuel monitoring
OBDII dongle
Ignition detection
Accelerometer, External Power Voltage, Engine RPM (OBDII dongle)
This information only is for informational purposes only, Plaspy does not have relationship with the device's manufacturer, for more information check the
manufacturer's website
or user manual.
Trackers
Use Plaspy with a tracker
Set the Operator APN
Check your tracker clock setup is set UTC-0 o GMT. (The most trackers come from the factory on UTC.)
For most devices you should use IMEI (International Mobile Equipment Identity) number as unique identifier. However, some devices have vendor specific unique identifier, for example TK-103 devices use 11-digit identifier.
Set Up the IP and port on your tracker: (automatic detect tracker's protocol.)

| | |
| --- | --- |
| Server | d.plaspy.com |
| IP | 54.85.159.138 |
| Port | 8888 |

Add on your Account on devices with the IMEI or unique ID.