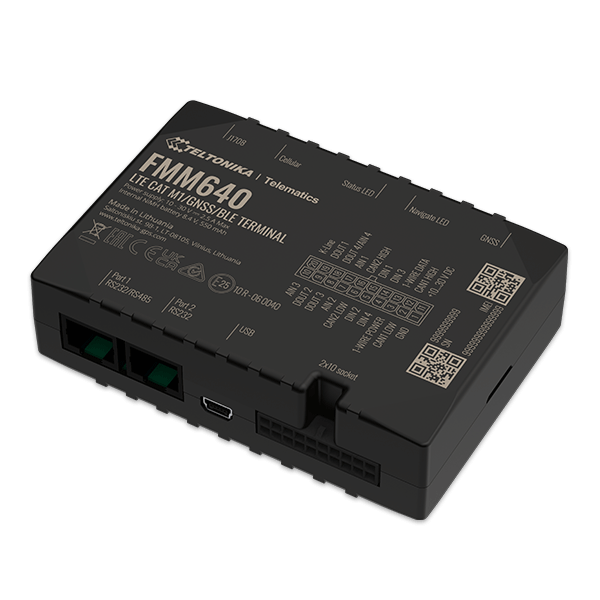 Visit the manufacturer website
Teltonika FMM640 is PROFESSIONAL worldwide tracker with LTE CAT M1, NB IoT connectivity, that makes this device usable with newest and most cost efficient technologies. FMM640 features like FMS CAN data (J1939), fuel CAN data (J1708), tachograph live data (K-line), remote tachograph file download, various third party RS232 or RS485 devices support and Dual-SIM will maximize your fleet efficiency. Terminal is suitable for applications like international logistics, refrigerated transport, agriculture, construction & mining, security & emergency services and even more.
FEATURES
Movement detection
Accelerometer
Scenarios
Green/Eco Driving, Over Speeding detection, Excessive Idling detection, Towing detection, Crash detection, Immobilizer, iButton Read Notification
Functionalities
Auto Geofencing, Manual Geofencing, Trip detection, Odometer, Fuel counter, GNSS Unplug Detection, DDD download and Tacho online data, Offline tracking
Supported peripherals
Garmin, RFID RS232, RFID 1-Wire, iButton 1-Wire, Temperature 1-Wire, LV-CAN200, ALL-CAN300, CAN-CONTROL, CAN FMS (J1939, J1708), K-line data, Continental tire pressure measurement sensor, Iridium SBD (TSM232), Carrier freezer, Log Mode, NMEA, TCP ASCII/Binary, Temperature and humidity sensor, Universal BLE sensors support
Sleep modes
GPS Sleep, Online Deep Sleep, Deep Sleep
Configuration and firmware update
FOTA Web,

FOTA, Teltonika Configurator
SMS
Configuration, Events, DOUT control, Debug
GPRS commands
Configuration, DOUT control, Debug
Time Synchronization
GNSS, NITZ, NTP
Fuel monitoring
LLS (Analog), Digital LLS (RS232, RS485), LV-CAN200, ALL-CAN300, CAN-CONTROL, CAN FMS, Ultrasonic level sensor
Ignition detection
Digital Input, Accelerometer, External Power Voltage
This information only is for informational purposes only, Plaspy does not have relationship with the device's manufacturer, for more information check the
manufacturer's website
or user manual.
Trackers
Use Plaspy with a tracker
Set the Operator APN
Check your tracker clock setup is set UTC-0 o GMT. (The most trackers come from the factory on UTC.)
For most devices you should use IMEI (International Mobile Equipment Identity) number as unique identifier. However, some devices have vendor specific unique identifier, for example TK-103 devices use 11-digit identifier.
Set Up the IP and port on your tracker: (automatic detect tracker's protocol.)

| | |
| --- | --- |
| Server | d.plaspy.com |
| IP | 54.85.159.138 |
| Port | 8888 |

Add on your Account on devices with the IMEI or unique ID.