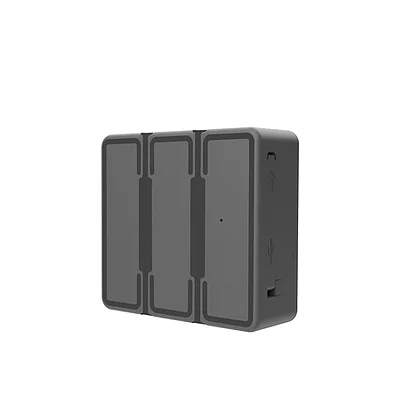 Visit the manufacturer website
TS-P4D 3G / 4G Magnetic Big Battery GPS Tracker
Performance Parameters:
Content

Specs.

Dim

73.8*69*26.6 / 73.8*69*35.5

Weight

0.2KG / 0.3KG

Network

4G / 3G

Band

Depending on the bands of your country

GPS chip

Ublox-7

GPS sensitivity

-159dBm

GPS accuracy

10 m

Time To First Fix

Reacquisition 0.1s
Cold status 45s
Warm status 35s
Hot status 1s

Work Voltage

DC 3.7-4.5V

Battery

Chargeable changeable 3.7V / 4000Mah / 8000MaH

Standby work current

< 30mA

Storage Temp.

-40°C to +85°C

Operation Temp.

-20°C to +70°C

Humidity

5%--95% non-condensing

Description:
1. The online web platform, the historical and current location can be checked.
2. Long Battery Life GPS Tracker E-fence function.
3. Long Battery Life GPS Tracker Hijack alarm, 9 SOS numbers can be preset.
4. Long Battery Life GPS Tracker Remote voice monitoring.
5. Long Battery Life GPS TrackerLow battery alarm.
6. Portable GPS Tracker Inlayed 3D accelerator, moving and static state, energy-smart.
7. Change the time interval of uploading automatically according to the speed.
8. Admin checks the latitude and longitude and location information by texting.
9. A-GPS solutions, shorter locating the time, higher precision.
10. Long Duration battery up to 48 hours fully working ( test under updating per 30 seconds).
11. Sleep model, 4000MaH battery, can work 15 days / 8000MaH, 30 days
This information only is for informational purposes only, Plaspy does not have relationship with the device's manufacturer, for more information check the
manufacturer's website
or user manual.
Set Up TS-P4D
To set the tracker send the following commands by SMS messages, the sample setup the device password is eGZmTH, this password is the default
Factory reset
FORMAT
Set the operator APN
apneGZmTH {{apn}}
Set the APN username
apnusereGZmTH {{apnu}}
Set the APN password
apnpasswdeGZmTH {{apnp}}
Set the GPRS server
ip54.85.159.138 8888
To check settings CXZT
Trackers