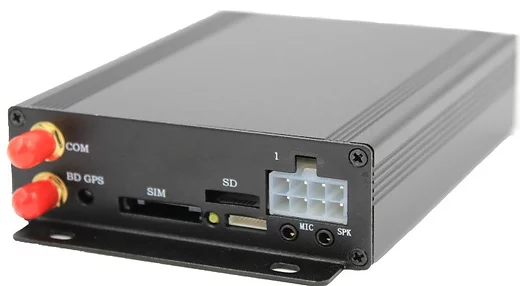 Visit the manufacturer website
TS-V7 Professional Vehicle GPS Tracker 2G/3G/4G
Main functions
1. Positioning and Tracking: Through the on-line Positioning Platform or the cell phone to locates at times, and get the working status. You can choose the Positioning Platform by yourself.
2. Triggering Emergency Alarm: When there is an emergency happened on the vehicle, you can put on the button and the installed unit to send out alarm to the authorized numbers.
3. Remote controlling fuel and circuit: You can control the fuel and circuit via the unit by SMS in anywhere and anytime.
4. Remote Monitoring: In anywhere and anytime, call the phone number in the unit, when it connects, you can monitor the sound around 5 meter from the vehicle.
5. Movement Alert: Send SMS to the unit to start the movement alert function. When the vehicle is moving, the unit will send the movement alert to all authorized numbers.
6. Overspeed Alert: Send SMS to the unit to start the movement alert function. When the vehicle is overspeed, the unit will send the overspeed alert to all authorized numbers.
7. Geo-fence: Set up a geo-fence for the unit to restrict its movements within a district. The unit will send the message to all authorized numbers when it beyond the district.
8. Get the geography information: read the terminal's location information via SMS.
9. Read terminal address: read the terminal's address information via SMS, this function need to be supported by platform.
10. Auto Tracker Function: set up auto tracking function by SMS or online tracking platform.
11. Mileage statistics, Ignition detecting, cutting off power and alarm.
12. Compatible with the original anti-theft alarm: It will send SMS alarm after the original anti-theft alarm warning.
13. The IP setting can be modified, support IP and web server domain.
14. Support LED advertisement screen. Platform center can send advertisement message to car with this tracker and LED advertisement screen (OEM).
15. Fuel monitoring function, support voltage type sensor or RS232 type sensor or Ultrasonic fuel sensor (OEM).
16. Temperature detecting function, support 2 channels NTC temperature sensor.
17. ID card input function, support RS232 type RFID card reader.
18. Overspeed alarm by buzzer output (OEM).
19. Build-in 3 axis g-sensor, auto saving power consumption.
20. Support OTA function.
21. RS232/485 and CAN bus port support.
22. Hardware watchdog, guarantee 24 hours of trouble free operation.
23. All of terminals has over-voltage and over-current protection function, and opposite connection protection.
24. Each terminal has a compensation function for Blind Area, up 1K~131K pcs.
This information only is for informational purposes only, Plaspy does not have relationship with the device's manufacturer, for more information check the
manufacturer's website
or user manual.
Set Up TS-V7
To set the tracker send the following commands by SMS messages, the sample setup the device password is tY9CIz, this password is the default
Type the device IMEI
Restore factory settings
begintY9CIz
Set the operator APN
apntY9CIz {{apn}}
Set the APN username and password
user {{apnu}} {{apnp}}
Set the device ID, use the last 11 digits of IMEI, replace the 11 X by the identifier
number{{('XXXXXXXXXXXXXX' + imei.substring(4,15)).slice(-11)}}
Set the GPRS server
ip54.85.159.138port8888
Set the update interval 120 seconds
at120sum0
switch to GPRS mode
webtY9CIz
Trackers