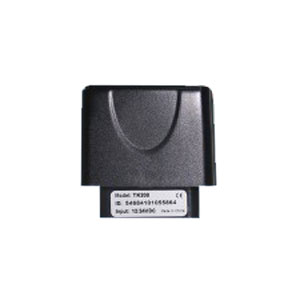 Visit the manufacturer website
OBD2 3G GPS Tracker TK208
Feature and functions for 3G OBD Car GPS Tracker TK208S:
1. Industrial design with high performance ARM7 processor;
2. GPS tracker + RFID Car alarm with long-distance tag;
3. Active RFID Driver ID identification or Mifare1 IC card reading (optional)
4. Track on command or by time interval or by distance;
5. Detect the engine ON/OFF status without extra connection;
6. Arm/disarm by SMS, phone call;
7. Arm/disarm automatically by 2.4G RFID tag(optional);
8. Check the car"s real physical address (such as city name, street name..);
9. Track by mobile SMS to get the latitude, longitude, speed, direction &
odometer etc.
10. Check the location directly by the Google map"s URL;
11. Engine on alarm, Over-speed alert, Geo-fence alert, movement alarm;
12. Crash alarm, when there is crash & it can detect it automatically;(optional)
13. Check the coordinates via LBS, even there is no any GPS signal;
14. Voice monitoring;
15. Cut off engine to stop the car safely by SMS/GPRS(optional);
16. Trace optimization when vehicles turns a corner;
17. Built-in shock sensor for power saving & triggering alarm;
18. Power failure alarm, with built-in rechargeable backup battery;
19. Wide working voltage range, from 10V-60VDC;
20. There are 3 types of working mode for power saving flexibly;
21. 8M-bit offline data logger, it can store up to 9,090 waypoints;
22. SMS content in multi-languages(English, Arabic, Spanish, Portuguese).
This information only is for informational purposes only, Plaspy does not have relationship with the device's manufacturer, for more information check the
manufacturer's website
or user manual.
Set Up TK208
TopTen trackers work in gQnwjI with the tracker ID that corresponds to the last 14 digits of the IMEI found in the QQS command, to configure the tracker send the following commands via text messages
Type IMEI number Your identifier is 0ZI2aJwh0jFfz6VeXVYTU
Restore factory settings
111111CLR
Set up the APN and GPRS server
111111WWW:IPN:54.85.159.138;COM:8888;APN:{{apn}},{{apnu}},{{apnp}};RPT:60;SLP:60;RUN:2;
To check the settings 111111WWW:
Trackers