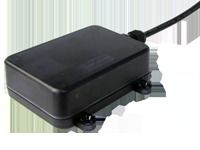 Visit the manufacturer website
RX-9 3G/GPS Waterproof Vehicle Tracker
For cars, vans, trucks, trailers, heavy machinery

The majority of fleet owners do not want complicated activity reports that they have to spend too much time studying. GPS tracking technology is evolving and growing at a fast rate, so customers are looking for suitable solutions for special applications like cold supply chain, agricultural machinery, caravans, and logistics. New markets and new applications are constantly being developed to meet the industries' tracking demands. 

RX-9 is low cost and fulfills all the basic functions for fleet management, vehicle recovery, construction/agricultural machinery and more. RX-9 has a temperature sensor and waterproof robust enclosure; it provides easy installation, fast and accurate location reports, immobilizer, and driver ID information. The latest uBlox GPS and GSM chips offer instant GPS fixes and more accurate GPS and cell locations, as well as accurate journey and vehicle usage reports; covering areas where there is no or very weak GPS signals. 

Superb power surge protection up to 65 volts prevents power feedback and possible tracker burn out; making it an ideal 'fit and forget' solution with reduced after sales service. Waterproof/heatproof housing and reliable build quality allows the tracker to withstand dramatic environmental changes in a traveling vehicle. The built-in antenna design not only reduces installation costs considerably, but also allows RX-9 to be well hidden to avoid tampering; increasing the chance of recovery if the vehicle is stolen. 

Quality components from reliable suppliers, such as uBlox modules, Sanyo battery cell, Chilin plastic and many others, ensures the device will survive any installation environment such as in heavy machinery, under trailers, and under the dash board. Fitting RX-9 can be as simple as just connecting the device to the vehicle power supply and engine key. RX-9 covers all 'must have' functions for fleet management such as temperature controlled fleets, and vehicle recovery; it enhances user satisfaction, offers low installation and low after-sale service costs, and has an extremely low defect rate.

Applications:
• Fleet management
• Trailer management
• Workforce management
• Delivery truck dispatch
• Vehicle recovery
• Caravan security
• Heavy machinery tracking
• Logistics for temperature-controlled supply chain
• PAYD (Pay As You Drive) insurance.
FEATURES:
1. Latest uBlox GPS and GSM modules, allowing AGPS and pin-point cell location.
2. IP-67 waterproof and heatproof up to 85 °C.
3. Power surge protection up to 65 volt.
4. Power input voltage 6 ~ 36 volt.
5. Stores and resends up to 50,000 locations.
6. Driver ID I-Button.
7. Immobilizer.
8. Digital temperature sensor.
9. Firmware/configuration update over the air (OTA).
10. Built-in antennas, compact size.
11. Activated by motion/ignition.
12. Up to 3450 mAh back-up battery.
13. 3 axis G-force sensor (configurable threshold).
14. Intelligent tracking (independent settings for time, distance, angle).
15. Activated by motion/ignition.
16. Heart beat for keeping GPRS connection.
17. Custom server acknowledgement.
18. Configurable real-time/idle tracking interval 
(independent settings for home network and roaming areas).
19. Configuration/firmware update over the air.
20. Speeding alert.
21. Low battery power alert.
22. External power input lost alert.
23. Optional solar charger available.
24. Sends Google hyperlinks for missed phone calls.
This information only is for informational purposes only, Plaspy does not have relationship with the device's manufacturer, for more information check the
manufacturer's website
or user manual.
Trackers
Use Plaspy with a tracker
Set the Operator APN
Check your tracker clock setup is set UTC-0 o GMT. (The most trackers come from the factory on UTC.)
For most devices you should use IMEI (International Mobile Equipment Identity) number as unique identifier. However, some devices have vendor specific unique identifier, for example TK-103 devices use 11-digit identifier.
Set Up the IP and port on your tracker: (automatic detect tracker's protocol.)

| | |
| --- | --- |
| Server | d.plaspy.com |
| IP | 54.85.159.138 |
| Port | 8888 |

Add on your Account on devices with the IMEI or unique ID.