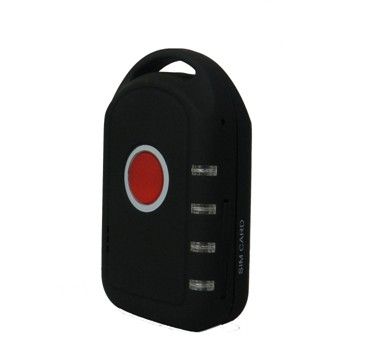 Visit the manufacturer website
Personal GPS tracker TL-206
Working Based on existing GSM /GPRS network and GPS satellites, this tracker is a small and powerful tracking device that is developed for personal, vehicle and pet etc. Not only transmit the longitude and latitude coordinate to your cell phone by SMS, but also transmitting the longitude and latitude coordinate to the designated server by GPRS and then displaying the location by tracking software.
1. Smallest size of 65mm x 40mm x 18mm
2. 200 Hours long standby time
2. It has ringing sound when there is an incoming call in 2-way voice mode.
3. Get position via GPS and GSM base station. 
Applications

1. Monitor and protect child, elder, young women and disabled. 
2. Guard against theft of strongbox, vehicle and outdoor equipments, cargo. 
3. Provide peace-of-mind for businessmen
4. Based on GSM network and INTERNET, this series of products provide personalized services for companies, organizations and individuals. 
5. Users can search the positioning or movement tracking information provided by this product via SMS or GPRS.
1. Built-in SIRF Star III Chipset, excellent for fixing the position even at a weak signal status. 
2. Built-in GSM/GPS modules and antennas.
3. Working all over the world.
4. Support two-way voice communication.
5. Support SMS communication or GPRS TCP connection. 
6. Get the position information via mobile phone SMS, or examine the path on the Internet. 
7. Support establishes five authorized telephone numbers.
8. Listen in function
9. Portable, compact size, power saving smart-mode design.
Main Features
1. Real-time locating and tracking. Sent a SMS to the GPS tracker and it will return you the longitude, latitude coordinate, map link and moving speed of the tracking target, then you can find out the location accurately by clicking the map link in the reply SMS. 
2. Geo-fence: It will send an alert to the authorized numbers when it breaches the restricted area that you set up before. 
3. Two way talking communication: You can talk with the tracking target via the GPS tracker just like a cell phone and also can listen to the sound around the GPS tracker in 5-meter secretly. 
4. SOS button: Press the SOS button and the GPS tracker will send a help alert with exact location to the authorized numbers for immediate rescue, then the GPS tracker will call authorized number 1,2,3 successively till one of the authorized numbers answers the help call.
This information only is for informational purposes only, Plaspy does not have relationship with the device's manufacturer, for more information check the
manufacturer's website
or user manual.
Trackers
Use Plaspy with a tracker
Set the Operator APN
Check your tracker clock setup is set UTC-0 o GMT. (The most trackers come from the factory on UTC.)
For most devices you should use IMEI (International Mobile Equipment Identity) number as unique identifier. However, some devices have vendor specific unique identifier, for example TK-103 devices use 11-digit identifier.
Set Up the IP and port on your tracker: (automatic detect tracker's protocol.)

| | |
| --- | --- |
| Server | d.plaspy.com |
| IP | 54.85.159.138 |
| Port | 8888 |

Add on your Account on devices with the IMEI or unique ID.