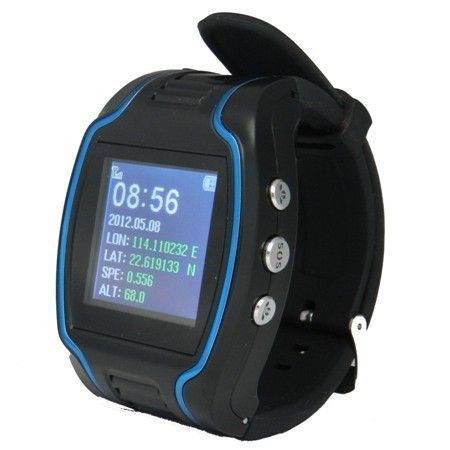 Visit the manufacturer website
The sophisticated GPS microchip embedded into the heart of the tracker continually reads its own location from low orbiting global satellites and then utilizes the GSM infrastructure operated by major cellular network providers via the SIM card to transmit its current location to you. It can be used to protect and look for our old people and children. It can also be used for safety purpose and other purposes, such as remote positioning to protect property safety.
------------------------------------------------------------------------------------------------------------
(1) making a phone call: The authorization number call the watch that ring 1-4 hang up after, can reply a message that all related information longitude and latitude, the longitude and latitude position data can through the Google map searches a target address, calling in and ringing 5 behind automatically answer, can talk with each other as phone
(2) Message (SMS) Mode: before having settle authorization number, any number can send out a message "6660000"(0000 is password) to the watch, then will get a positioning reply.
Two-way talking communication
When you press button "Call 1", the device will call the pre-set number 2; When you press button "Call 2",the device will call the pre-ser number 3; then you can communicate with other person with two-way mode.
If someone call the device, then you will see the interface, you can answer it by pressing SOS button, otherwise it will answer automatically after 30 seconds, or you can hang up it by pressing ON/OFF button
This information only is for informational purposes only, Plaspy does not have relationship with the device's manufacturer, for more information check the
manufacturer's website
or user manual.
Trackers
Use Plaspy with a tracker
Set the Operator APN
Check your tracker clock setup is set UTC-0 o GMT. (The most trackers come from the factory on UTC.)
For most devices you should use IMEI (International Mobile Equipment Identity) number as unique identifier. However, some devices have vendor specific unique identifier, for example TK-103 devices use 11-digit identifier.
Set Up the IP and port on your tracker: (automatic detect tracker's protocol.)

| | |
| --- | --- |
| Server | d.plaspy.com |
| IP | 54.85.159.138 |
| Port | 8888 |

Add on your Account on devices with the IMEI or unique ID.